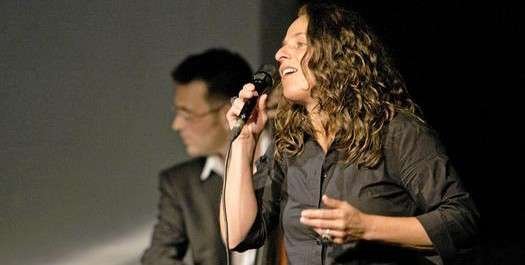 Jazz-Sängerin lässt Publikum Raum und Zeit vergessen
Jazz-Sängerin lässt Publikum Raum und Zeit vergessen
Mit Melancholie und Leidenschaft verzauberte das Stephanie K. Jazz Quartett die sehr vielen Liebhaber feinster Gesangs- und Musizierkunst am Sonntagnachmittag im Konzertsaal der Burg Vischering. Im Rahmen der kreisübergreifenden Konzertreihe "Trompetenbaum und Geigenfeige" war dieses Musikerlebnis aufgrund der unsicheren Wetterlage nicht wie angekündigt "Open Air", aber das minderte den Musikgenuss nur äußerst gering.
Die aus New York stammende Sängerin Stephanie K. mit Wahlheimatort Münster hatte die Sympathien des Publikums vom ersten Moment gewonnen, ihr folgte man gerne auf ihrer nicht durch stilistische Grenzen eingeengten Reise durch die Zeit. Leicht swingend begann sie mit dem legendären Jazzstandard "Let's fall in love" von Harold Arlen aus dem Jahre 1933, den sie vom Staub der Jahrzehnte befreite. Mit "Don't let me be lonely" von James Taylor zeigte sie wie auch bei "It's too late baby" von Carol King ihre musikalischen Wurzeln, färbte diese beiden wunderbaren Songs mit einem leicht rockigen Einschlag.
In die gleiche Richtung ging es mit Paul Simon's "50 ways to leave your lover", bei dem sich ihre markante Interpretationsweise in einem großen dynamischen Spektrum zeigte. Dieses Konzert war eben mehr emotionaler als kopflastig-akademischer Jazz, die charismatische Sängerin präsentierte jeden Song in ihrem unverwechselbaren Stil. Dabei konnte sie sich ganz auf die Qualitäten ihrer musikalischen Weggefährten verlassen, die ihr den instrumentalen Grund lieferten, auf dem ihre Stimme in ihrer ganzen Schönheit erstrahlen konnte.
Mit ihrer Natürlichkeit und starken Präsenz prägte Stephanie K. dieses Konzert, bei dem sich auch ihre eigenen Songs niveauvoll in das Programm einfügten. Große Gefühlstiefe bei "Adjusted to your Silence", autobiographische Prägung bei "Should we or should we not" sowie aktuelle Bezüge bei "Don't friend me on Facebook" zeigten die große Songwriterin mit einem ganz persönlichen Stil. Ob bei Jazzstandards wie "No more blues" von Antonio Carlos Jobim oder dem für Louis Armstrong von George David Weiss komponierten "What a wonderful world", Stephanie K. war in all diesen Welten zu Hause und ließ das begeisterte Publikum Raum und Zeit vergessen.